Aktuelle News & Schlagzeilen
Chauvet Professional introduces Colorado Solo Batten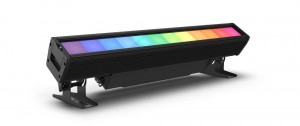 The new Colorado Solo Batten from Chauvet Professional made its world premiere on the Times Square 'Midnight Countdown Stage' of the ABC Network's 'Dick Clark's New Year's Rockin' Eve' program.
Featuring 144 LEDs, the linear fixture has 12 equally-sized square sections, each of which can be controlled individually. This allows the Colorado Solo Batten to go from presenting a single homogenized light source, to displaying a variety of pixel mapped effects and chase sequences with smooth fades and wipes. Luminance: up to 3,870 lux at 5 meters. IP65 rated, this batten is well-suited for music festivals and other outdoor applications. The fixture runs on DMX and RDM protocols.
The Colorado Solo Batten can be oriented vertically or horizontally and used on set pieces, where its individually controlled squares can be employed to create visually dynamic effects. Producing a wide array of colors plus white (color temperature presets from 1800 to 8000 K), the fixture also excels as a downlight, toning strip, foot light and cyc.
© 1999 - 2019 Entertainment Technology Press Limited News Stories