Aktuelle News & Schlagzeilen
NRG crew take on the TPI Awards 2019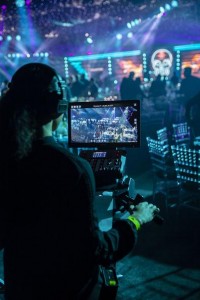 For the third year running, a number of NRG (Next Robe Generation) crew members made a significant contribution to the production of the TPI Awards 2019. Held at Battersea Evolution in London, and welcoming over 1,600 guests, the evening was attended by a 'who's who' of the industry.
The lighting rig included over 300 Robe fixtures specified by Robe's in-house Media and Lighting Designer Nathan Wan in order to meet the brief from TPI. Nathan Wan again offered the opportunity for a select number of NRG crew to join the Robe production team.
This year's team of six NRG crew included Alex Merrett, in his final year at University of South Wales, Owen Yelland also in his final year from Rose Bruford College, Ben Linwood from Guildford School of Acting and Espen Karlsen from Rose Bruford College. It was also encouraging to welcome two female crew members - Jasmine Williams, a final year student from Royal Welsh College Music & Drama, and LIPA's Georgia Wren.
(Photos: Lindsay Cave @loosplat/TPi Magazine)
© 1999 - 2019 Entertainment Technology Press Limited News Stories