Aktuelle News & Schlagzeilen
ADB presents new lighting console and luminaire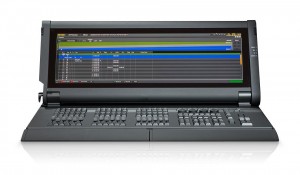 ADB presents Ocean, a lighting console designed for theatres, opera houses and multi-purpose venues. Ocean hosts a high-resolution touch screen, with a 70-cm-wide (27½-inch-wide) viewing area. It provides operators with full access to all functions and control of all parameters through a single screen.
Due to its ultra-stretched display format, the console and screen itself are still compact, both in depth and height. This means the operators have a good view of the stage from every angle, regardless of where they are sitting, and can place the console on small surfaces. Ocean is the only console on the market with four Ethernet outputs, which means that users no longer have to provide additional Ethernet access.
Also new in ADB's portfolio is Orkis, a color LED Fresnel or Pebble luminaire. Its CRI remains stable at values of at least 97 due to a 6-color LED system and advanced software. Orkis reproduces the behaviour of a halogen light, making it compatible with various different light sources.
It is also a variable white LED unit, from 8000 K to 2500 K: the white light it produces is pure since it combines six colors, and the CRI is unaltered when the color temperature changes. Orkis can be used as a flood light up to an angle of 87° (field angle), or a spot light with an angle of 15° (beam angle). Variation is continuous, smooth and linear within this range. Alternatively, Orkis can be modified into a PC luminaire, by changing the lens with the related accessory.
© 1999 - 2019 Entertainment Technology Press Limited News Stories