Aktuelle News & Schlagzeilen
Elation Fuze installed at CC de Warandepoort Theatre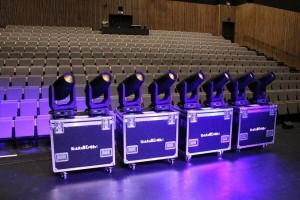 CC de Warandepoort Theatre in Tervuren, Belgium, took delivery of Elation Fuze Profile luminaires shortly before performance venues went dark in March and look forward to using the new moving heads on a variety of productions once the theatre can again welcome patrons to its stage.
Warandepoort Theatre is a 370-seat performance arts venue and the cultural center of the municipality of Tervuren, presenting both modern and classic theatre, concerts, comedy, dance, film, and the occasional corporate or community event. Although many of the productions the theatre hosts carry their own equipment, according to Alexander Remmerswaal, technician at the theatre, many do not. "When that is the case, we step in with technical support by providing our own equipment," he says, clarifying that there is little budget for renting in gear. "We have wash fixtures in the rig but needed a fixture with breakup gobos to complement those so I started looking around at expos at the different possibilities."
The Fuze Profile fixtures will fulfill a number of lighting roles at the theatre depending on the production, but typical use will be as effect light and back light with some productions using them for frontlight as well. Although the Fuze Profiles will reside permanently at Warrandepoort Theatre, they were delivered with flight cases so they can take the units with them when they stage productions at one of their other locations, which Remmerswaal says they do about once a year. Lighting and sound supplier Sotesa, a company the theatre regularly works with, supplied the Fuze fixtures.
© 1999 - 2021 Entertainment Technology Press Limited News Stories