Aktuelle News & Schlagzeilen
Amate Audio expands new loudspeaker management processor platform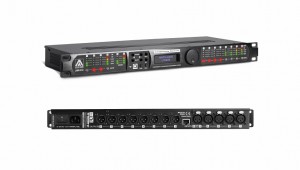 Following the initial introduction of its all-new LMS series 64-bit loudspeaker management processor in Q4 2019, with the LMS206 dual input/six output device, Amate Audio has recently launched the more extensive and powerful LMS608.
With four analogue inputs, a two channel AES/EBU digital input, and eight analogue outputs, all on balanced XLRs, the 1U 19" rackmount LMS608 offers advanced system configuration capabilities - comparable with Amate Audio's Nítid active loudspeaker series - for the management of large-scale passive sound reinforcement systems for touring, event or fixed installation applications. Higher performing 24 bit ADDA convertors on the units I/Os gives the LMS608 higher sound quality than its less powerful sibling.
In addition to 80 user-programmable password protectable memory presets, 20 'factory' presets offer system engineering efficiencies in enabling near-instantaneous system control configurations for different combinations of different passive Nítid, Key, and a number of Xcellence series. Ethernet or USB (Windows and Mac OS) remote operation is available with Amate Audio DSPLink software.
© 1999 - 2020 Entertainment Technology Press Limited News Stories