Aktuelle News & Schlagzeilen
Elation launches Proteus Excalibur beam moving head fixture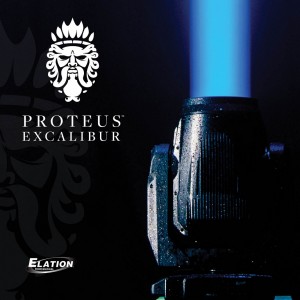 The Proteus Excalibur, the newest member in Elation Professional's Proteus range of IP65 automated fixtures, is the brightest IP65 full-featured beam fixture ever created, producing up to 200,000 lux at 20 meters (7500 lux at 100 meters).
The Excalibur's 0.8° beam ensures the fixture is visible at great distances. The beam projects from a 260 mm front lens as a massive column of solid light. A wide array of gobos (8 interchangeable plus a 17-position static wheel) and prism overlays (4- and 8-facet) allow for a variety of dynamic sky animations. The upcoming integrated sky animation system allows the Excalibur to operate aerial shows without needing an external DMX controller.
The Excalibur offers full CMY color mixing plus 14 dichroic colors including CTO and UV. The beam is controlled through an internal focus lens. Dual variable frosts allow for softening of the beam when required and a remote-controlled Expander lens widens the beam to approximately 3.5 degrees for a fuller look.
The Proteus Excalibur uses Philips' Flex lamp technology. The discharge lamp/ballast package produces a high output while performance remains resourcefully economical with a lamp life of up to 4,000 hours. The Philips Platinum 500 Flex (550 W) lamp is dimmable via the internal ballast, which dims the lamp electronically and offers a Hibernation Mode that reduces power to the lamp when not in use. The lower internal heat produced extends the life of the lamp and all internal components of the fixture. The Excalibur supports DMX, RDM, Art-NET, and sACN protocols.
(Photo: Elation Professional)
© 1999 - 2022 Entertainment Technology Press Limited News Stories